Searching for the perfect Honeymoon Package? You've finally found it!
your private island Honeymoon at Thatch Caye:
Adventure and romance come together at Thatch Caye Resort! We invite you to fall in love with Belize as you celebrate your love for each other with our Honeymoon Package. Discover the Belize Barrier Reef, enjoy a private candlelight and champagne dinner for two, and let the warm ocean breezes rock you to sleep in a hammock under the stars.
You're on your honeymoon – you deserve some privacy! Check off an item from your bucket list by staying in an over-the-water bungalow or enjoy additional privacy by choosing an island-cabana with a roof-top deck. Accommodations are coffee table book-worthy and utterly romantic. Each has comfy beds, ensuite baths, private balconies and hammocks. Built at the water's edge, there's no charge for lullabies made up of gentle, lapping waves. Even jaded island hoppers are impressed by the lush scenery.
The temperature in Belize varies by 10 degrees Fahrenheit year-round. Even during the rainy season, it is common to see less than an hour of rain daily. The weather is essentially perfect. Gentle ocean breezes offer Mother Nature's finest air conditioning, so whether you book your trip to Thatch Caye in June or January, you can anticipate avoiding extreme, stifling heat found elsewhere. Take advantage of the complimentary kayaking, paddle boarding or shore snorkeling. With it's location on the Belize Barrier Reef, scuba diving and fishing (fly fishing or deep sea) is unbeatable.
Belize has a fascinating history and is a melting pot of many cultures. A wonderful variety of people, cultures and civilizations have called Belize home. This includes immigrants from Mexico, the Caribbean, Asia, India, the Mediterranean, Africa, Spain, the Americas, and the Ancient Maya. The years and years of mixing cultures have created some of the most interesting and delicious dishes in the Caribbean. There's an abundance of fresh seafood that can't be matched. During lobster season, you can even catch your own lobster dinner! Dining is definitely an experience here.
Our romantic, all-inclusive package is perfect for guests celebrating their honeymoon or anniversary. With only 12 dwellings on the island, couples have the opportunity for a very private vacation. Experience the true "island life," but be warned, you'll never want to leave.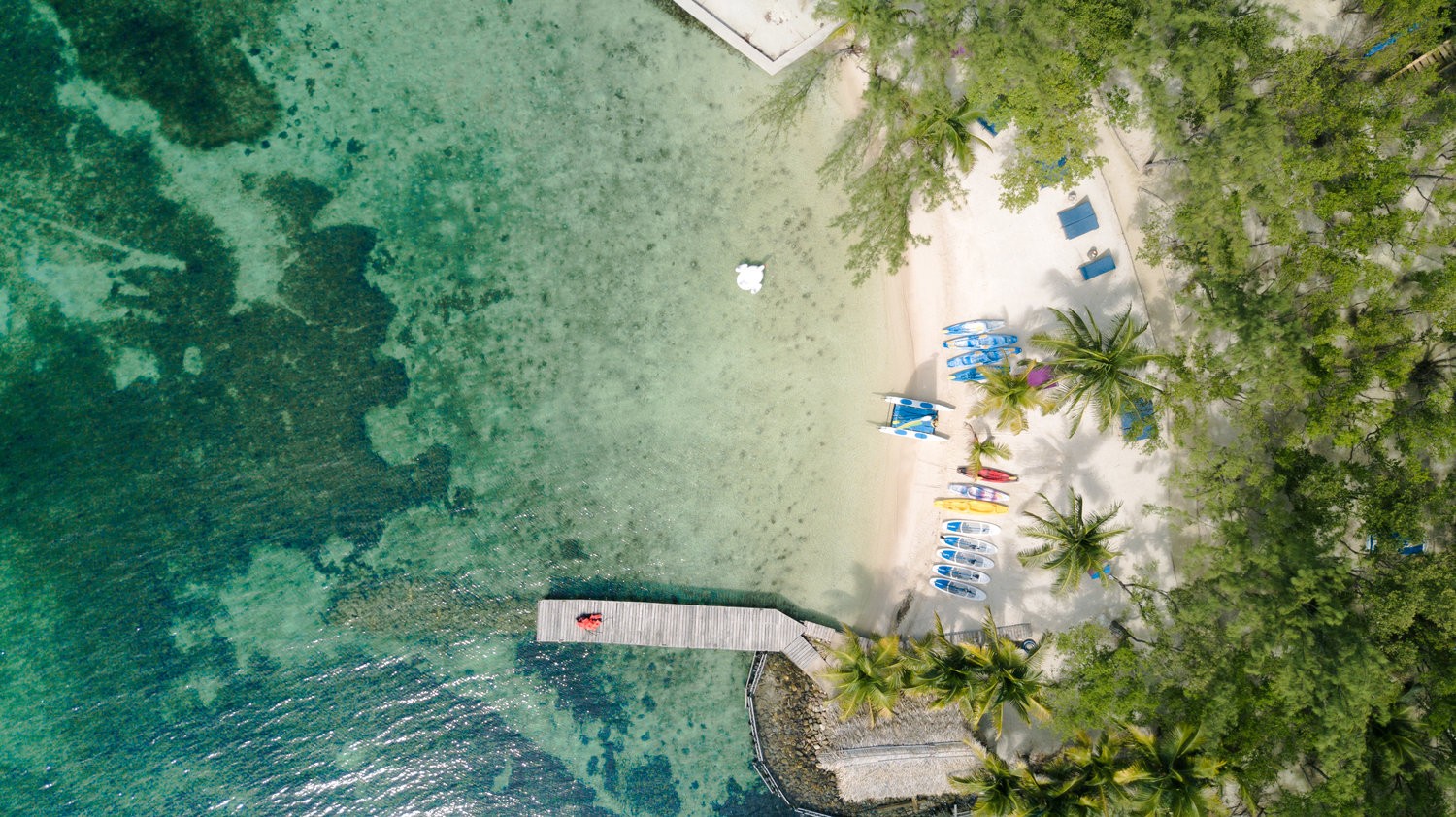 Our Honeymoon Packages already include everything to make your marriage celebration as special as it should be! Have a special request that's not already included? Just let us know and we will do our best to accommodate for it. From the aquarium gracing the marina to one-of-a-kind sunsets, connecting boardwalks and the peace you crave, our private island Honeymoon Packages have it all! Choose from three packages to find the perfect Honeymoon for you and your new spouse!
Want to hear more about our HONEYMOON PACKAGES
and how we can do something special just for you two?