Excursions
Go Inland to Visit the Jungle
Full day mainland tours include transportation to and from Thatch Caye Resort, packed picnic lunch, tour permit fees and services of a tour guide. Mainland tours require a minimum of 4 people.
Experience the thrill of zipping high above the South Stann Creek River and rainforest canopy. Get a bird's eye perspective of the river canyon and surrounding mountains.
Panoramic vistas from 11 decks and 7 lines with views that were previously available only to birds in flight. Enjoy a snack and then hit the river in expedition-style tubes as you float below lush vegetation through jungle rapids. Here you could catch a glimpse of exotic tropical birds, including endangered scarlet macaws, iguanas, and other jungle wildlife.
COCKSCOMB BASIN, JUNGLE RIVER
TUBING, & MAYA CHOCOLATE TOUR
Cockscomb Basin is renowned for being the world's first and only jaguar preserve with over 128,000 acres of lush tropical rainforest. Its home to all five of Belize's large cats: jaguar, puma, margay, jaguarundi, and ocelot.
Explore the jungle trails of this flora and fauna sanctuary with a naturalist tour guide. After your hike, tube or float down the river for a unique, close-up look at the jungle. Next, you'll grab some lunch before heading over to a nearby cacao farm. You'll get a front row seat to the ancient practice of chocolate making. You'll learn everything there is to know about chocolate, including its many healthy properties and how the ancient Maya civilizations used cacao beans as currency.
ATM CAVE
(ACTUN TUNICHIL MUKNAL)
The ATM Cave is most famous as an ancient archaeological site, containing the skeletal remains of Maya human sacrifices, pottery, and other ancient artifacts. Visitors go bananas over the fully intact skeleton from around 700- 900 AD that literally sparkles, thanks to time and science. You'll hike to the location, wade across rushing rivers in waist-deep water, climb wet ladders inside a cave in just your socks, then enter a deep, dark hole in the side of a mountain because a tour guide told you to (and maybe pee yourself a little – but that's okay!). This is one of the more difficult tours offered in Belize, but the effort is well-worth the experience. Warning: This is not a cave for young children, those not physically fit, with knee, hip or ankle problems or with problems with claustrophobia and or heights.
RAINFOREST HORSEBACK
RIDE & SWIM
Whether you're an accomplished rider or a novice, you'll enjoy this unique riding experience. The horses are well trained and carefully selected to make even the most timid rider look and feel like a professional! The ride will take you through pine ridges covered in magnificent ferns, then through the rainforest and its magnificent Cohune trees. After, the trail takes you to the Sittee River where you can choose to enjoy a cool, refreshing swim or simply relax on the river bank before heading back.
GARIFUNA CULTURAL
& CULINARY ADVENTURE
This tour offers an enriching vacation experience that completely immerses you in the culture and traditions of the Garifuna people. Long hailed as "the teachers of Belize", your Garifuna hosts, dressed in traditional attire, will teach you about the history and tradition of one of Belize's prominent ethnic groups. You'll learn about the many magical and beneficial properties of the coconut and the art of traditional coconut harvesting, husking, grating and milk extraction - you'll be an expert before the day is through! Your labor of love will be repaid many times over when you sit down to partake in a delicious Hudut, a coconutbased soup with fresh herbs and the catch of the day. Your meal will be served with pounded plantains and fried fish. At the end of the day, you'll learn the basic drumming techniques of the Garifuna parranda and punta rhythms. Let the beat of the Primera and Segunda drums revitalize you and end your night with a sweet treat - a traditional Garifuna dessert.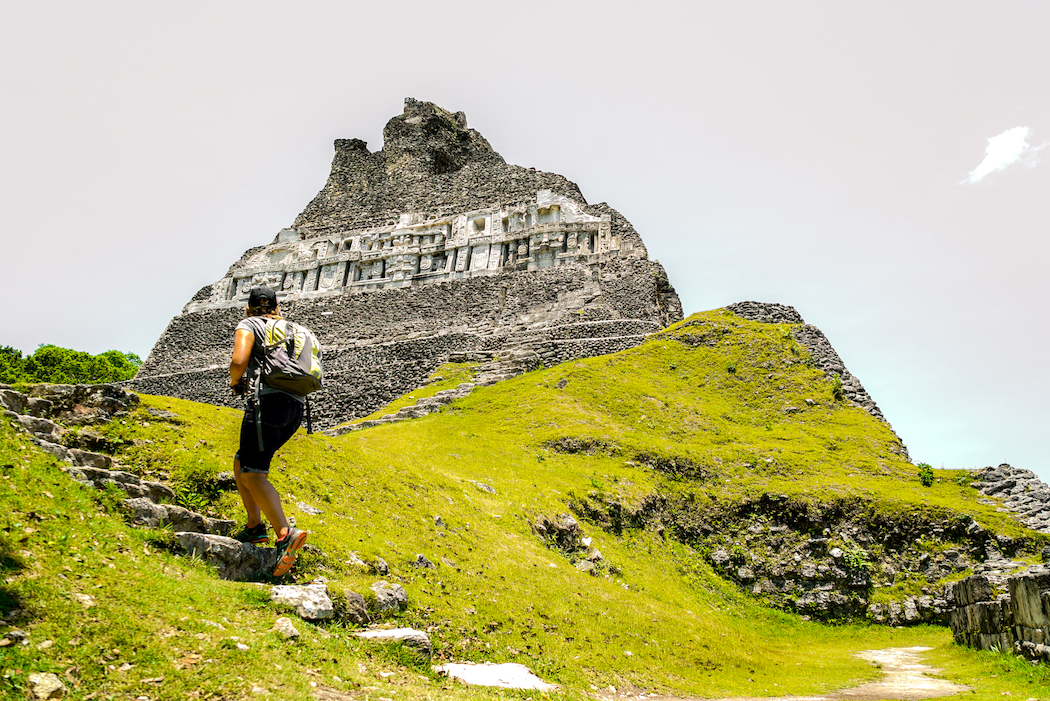 XUNANTUNICH (STONE MAIDEN) &
BLUE HOLE CAVE TUBING
Enjoy the orange groves, banana farms, and a view of the Maya Mountains during the scenic drive through the Hummingbird Highway. Once you cross into Western Belize, your journey takes you across the Mopan River on a hand-cranked ferry to reach the ancient site of Xunantunich. The reward for climbing to the top of El Castillo is a spectacular view of both the Cayo District and Petén, Guatemala. After your climb, it's time for lunch at a local restaurant before heading to St. Herman's Blue Hole National Park. Here you can choose from an exhilarating cave-tubing experience through the intricate cave system or simply a refreshing dip at the inland Blue Hole.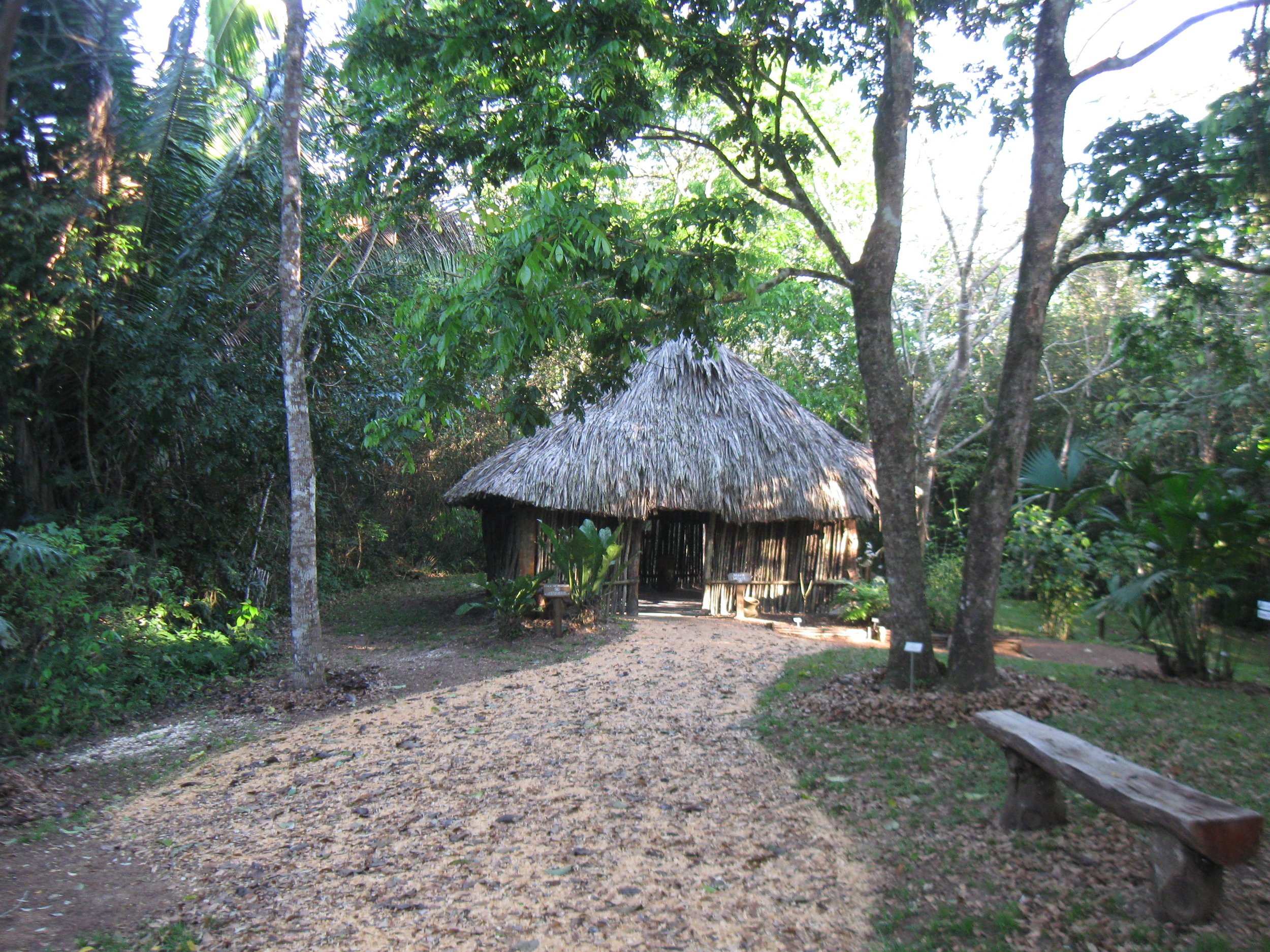 LIVING MAYA EXPERIENCE
& NIM LI PUNIT OR RIVER TUBING
The Living Maya Experience offers you an immensely enjoyable visit to a Mayan home in Big Falls Village. You will experience a traditional Mayan home, furnished with all natural materials, from Balsa wood benches to beds of tree bark. The Living Maya Experience is a must as the Kek'chi Maya culture is quickly disappearing. You'll spend time in a Mayan home that offers a look back to a time when they depended on the land for everything from food to furniture to medicine.
You'll even get to help cook (and enjoy!) a traditional Maya meal. The traditional meal that will be served is chicken, prepared only with organic seasonings including recado, cilantro & culantro. After lunch, you'll get a chance to visit Nim Li Punit or go river tubing.
Nim Li Punit Maya site is named for a carving found on the longest of the site's twenty-six stone monuments, or stelae. The longest stelae is carved with a figure wearing a large headdress and, at a length of 30 feet, is the longest discovered in Belize and one of the tallest in the Maya world. Tube the river in expedition-style tubes as you float below lush vegetation through jungle rapids. Here you could catch a glimpse of exotic tropical birds, including endangered scarlet macaws, iguanas, and other jungle wildlife.